Official confirmed update.
475 On Board
6 Dead (3 male student, 2 female students, 1 female crew member)
179 Rescued
290 Unaccounted/Missing
(ETA) Update:
As of 11:00AM the toll is: 9 (4 unidentified) dead, 287 missing, 179 rescued, 475 were on board. 

The ferry appears to have sunk deeper: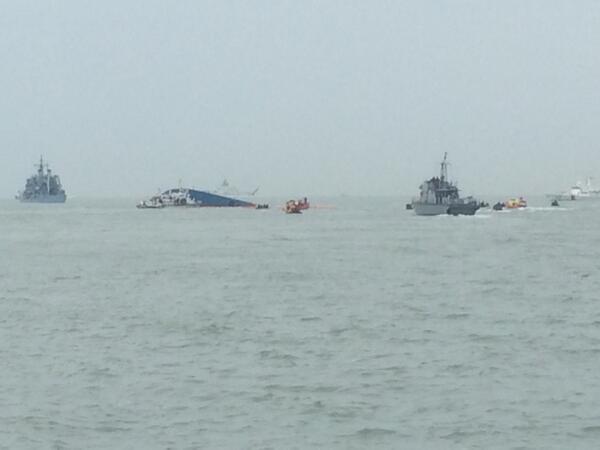 Coast Guard says Sewol ferry was out of its normal routine. (Yonhap)
Current weather, foggy, expecting 10-40 mm of rain: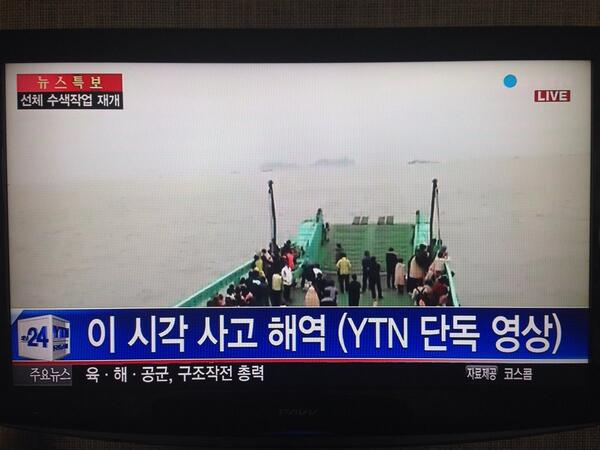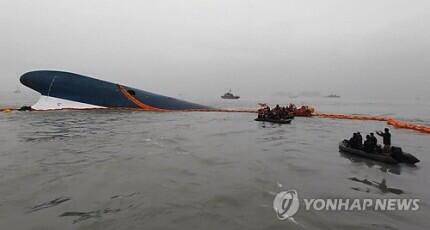 Cranes are en route to take the ferry out of the water.
555 divers trying to search Sewol in vain amid strong current/low visibility (20cm). Giant cranes to lift the ship to arrive only tomorrow.
Coast guards attempting their rescue efforts this morning: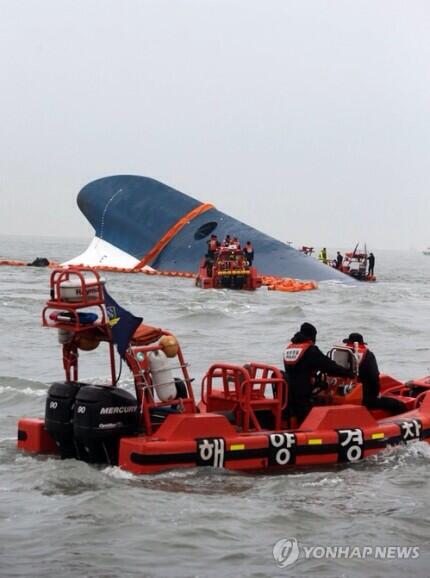 There is currently no ID of the captain or a statement from him or the crew.

We are still unaware if all the passengers are still trapped in the boat or if any were able to escape and are wading out in the waters.
The US Navy is now joining efforts in search of more passengers.


Awaiting further word from officials on the matter.
Very small update

Toll is the same.

A video taken by a survivor while on the Sewol Ferry as it was tilted: https://www.youtube.com/watch?v=xxc8msCV-Ps&feature=youtu.be

Messages left on a chalk board in Danwon High School for passengers to come back safely:

Cars parked outside of Danwon High School:

Somber mood of the auditorium of Danwon High School as friends and family await news: https://vine.co/v/M17wZgudVpV

Fishery ship captain that saved 27 passengers (Yonhap).
(Note: Not the captain of Sewol Ferry)
MAJOR UPDATE (10:30AM KST):
Current toll: 475 on board, 179 rescued, 26 dead, 270 missing.
To put things into perspective of Danwon High School: 75 rescued, 12 dead, 238 unaccounted. 
Search and Rescue efforts have stopped again due to severe weather conditions. Will restart at 1PM.
The reason why the ship capsized remains unconfirmed although reports suggest it might have hit a submerged rock (Yonhap).
Crew member Oh Yong-seok, who escaped with several others including the captain, has told the Associated Press that rescue efforts were hampered by the ferry's severe tilt. "We couldn't even move one step. The slope was too big," he said.
YTN reports that it'll take about a month to lift up the sunken Sewol Ferry by using cranes & other machines
Crew member Oh Yong-seok, who escaped with several others including the captain, has told the Associated Press that rescue efforts were hampe…
"Very Sorry, Nothing to say now" response of captain to coastguard investigating him: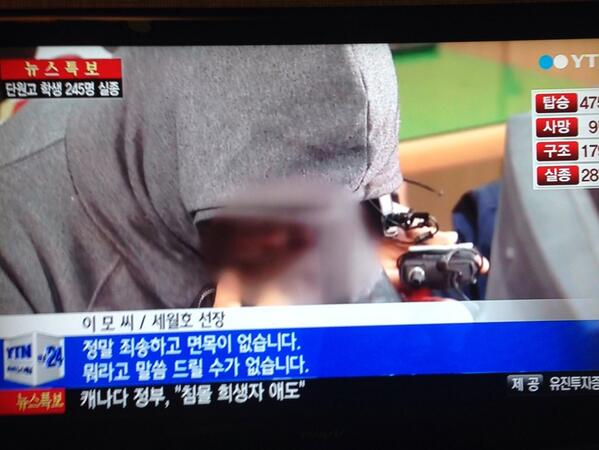 One S.Korea navy ship crew member who has worked in the rescue operation is now under unconscious state.
Local police stated some messages claiming "We're still alive" are mostly fake.
"Madam President, please save my child." Parents are holding South Korean President and crying (Newsis):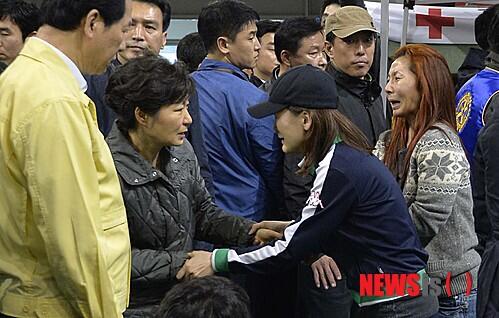 "We're inside the ship" - text messages sent from the sinking South Korean ferry http://www.bbc.com/news/world-asia-27045924
The blue line stands for Sewol ferries normal route, but JTBC expects Sewol ignored that and moved onto the path dictated by the red line: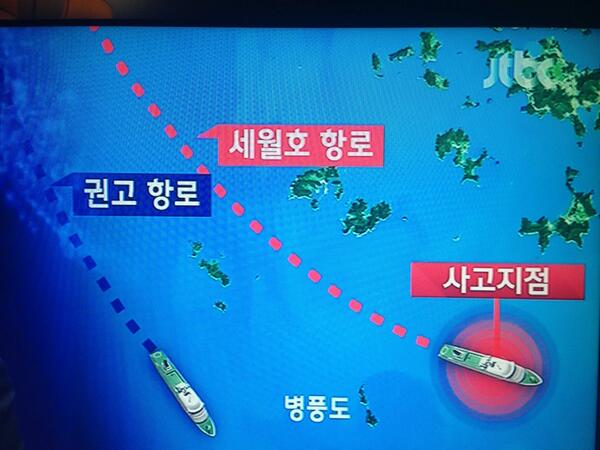 South Korea coast guard resumed its rescue operation. Unmanned Robot to join to have a better findings of people.
All major TV channels here in South Korea have decided to halt the regular broadcast of dramas and entertainment programs temporarily.
South Korean LA Dogers pitcher, Ryu HyunJin's (@HyunJinRyu99) message - 모두들 무사히 가족품으로 돌아갔으면 좋겠네요 … 모두들 힘내세요. Remembering the Sewol disaster.
LA Dogers message - paying respect to those affected by the sinking of the Sewol ferry in South Korea: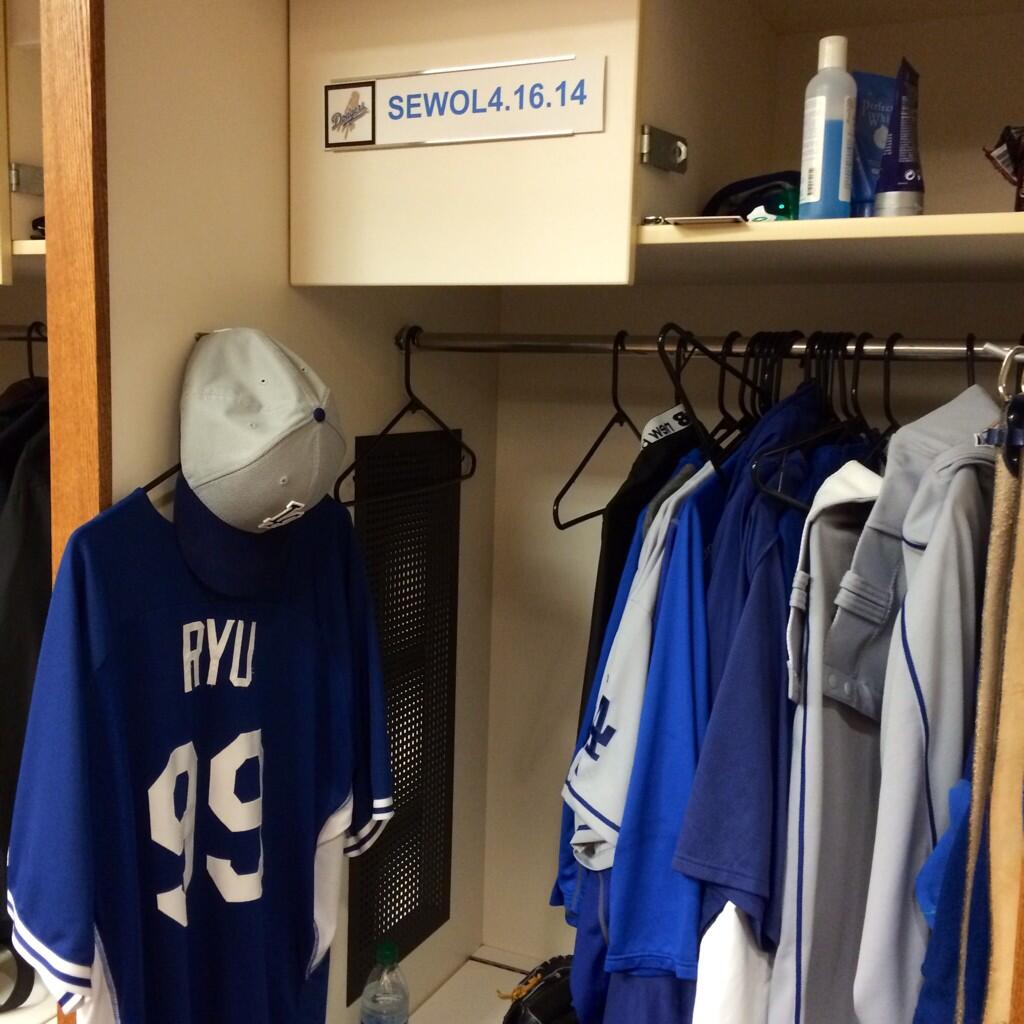 "You didn't replied my text, Please reply ASAP, I miss you" A friend of Sewol Passenger message (via: 조재환):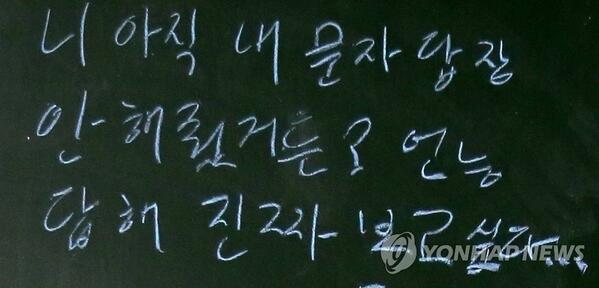 YTN - People staying at Jindo Gymnasium are showing moving up to the podium and showing their anger.
3 out of 4 cranes now arrived at ferry rescue scene. One Crane about to arrive 4pm KST.
Picture shows family members of Sewol passengers waiting for their loved ones at port: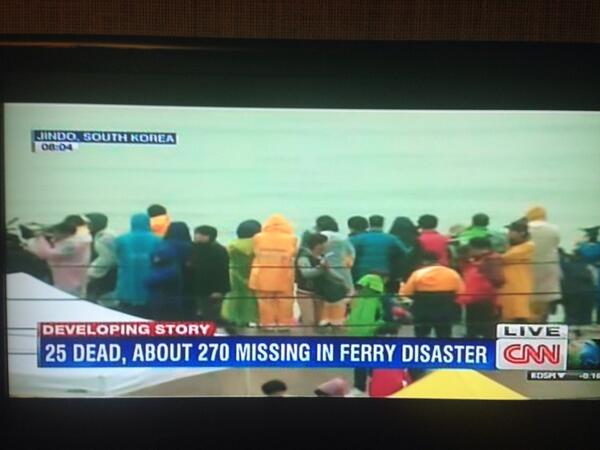 Korean media is commonly saying: "Still, we have a little bit of hope".
16-year-old Russian Girl is still missing.
9am KST look of Jindo Gymnasium. Family Members are saying "We cannot trust the government" (YTN):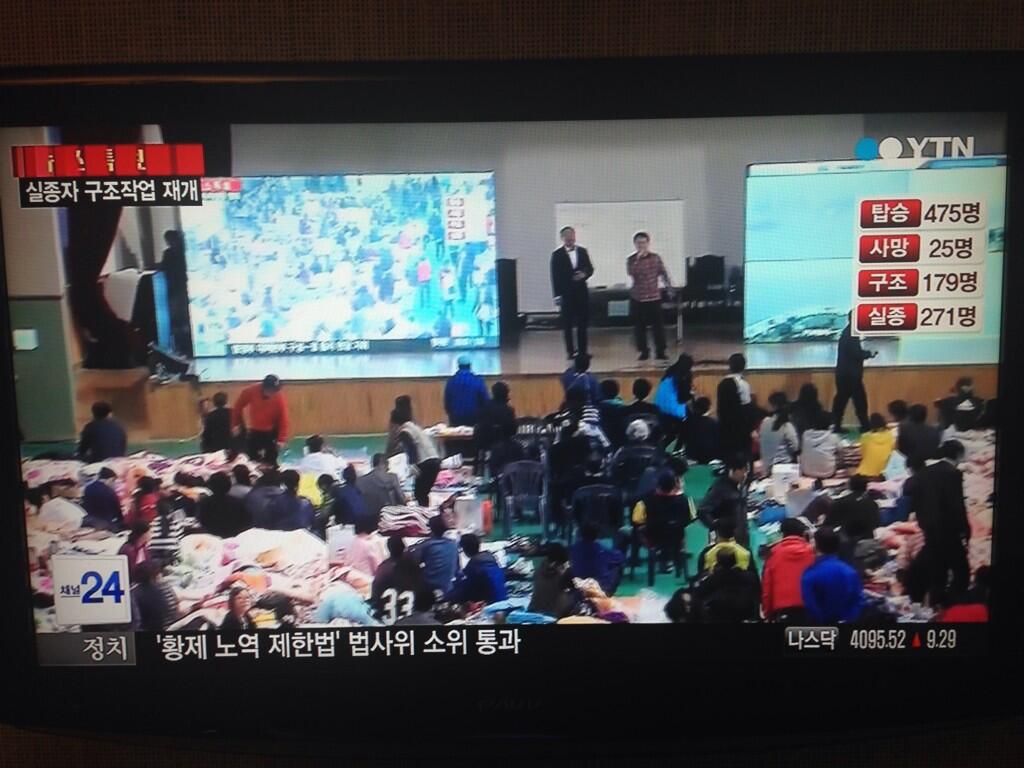 Very emotional scene in Jindo. Parents screaming and crying "captain, come out" and "government help us" (via Kyung Lah):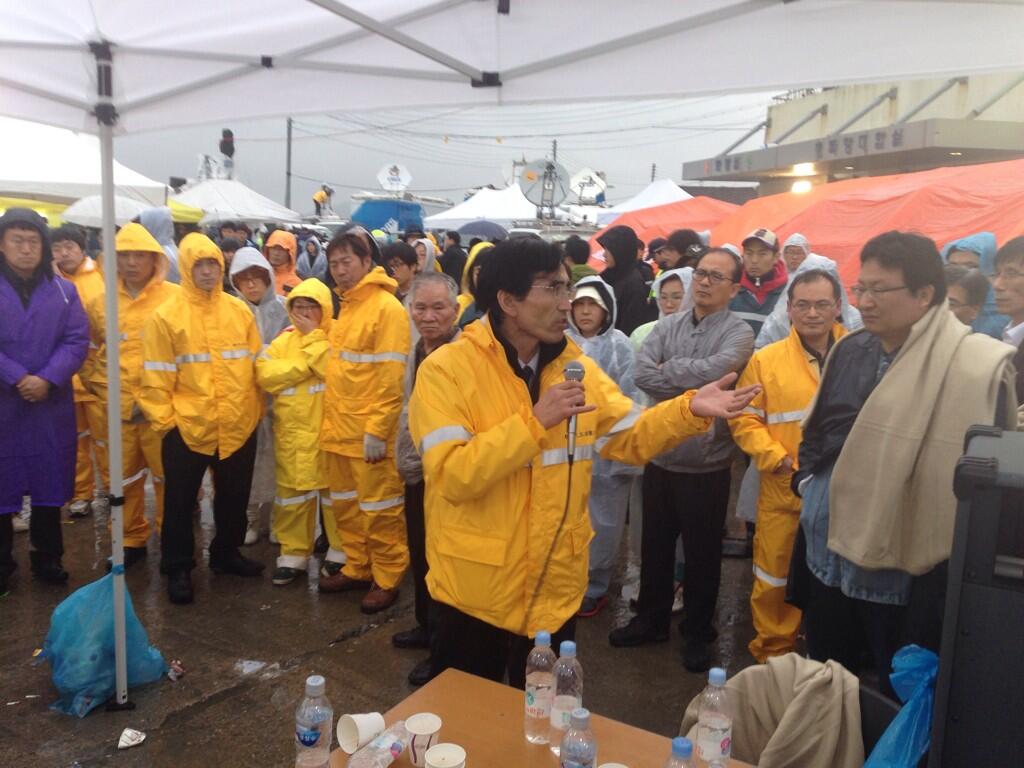 South Korea ferry: Messages from a sinking ship
http://www.bbc.com/news/world-asia-27045924
Hospitalized Kwon (6) brought back to Gym for Park. I believe she should have gone to the traumatized child: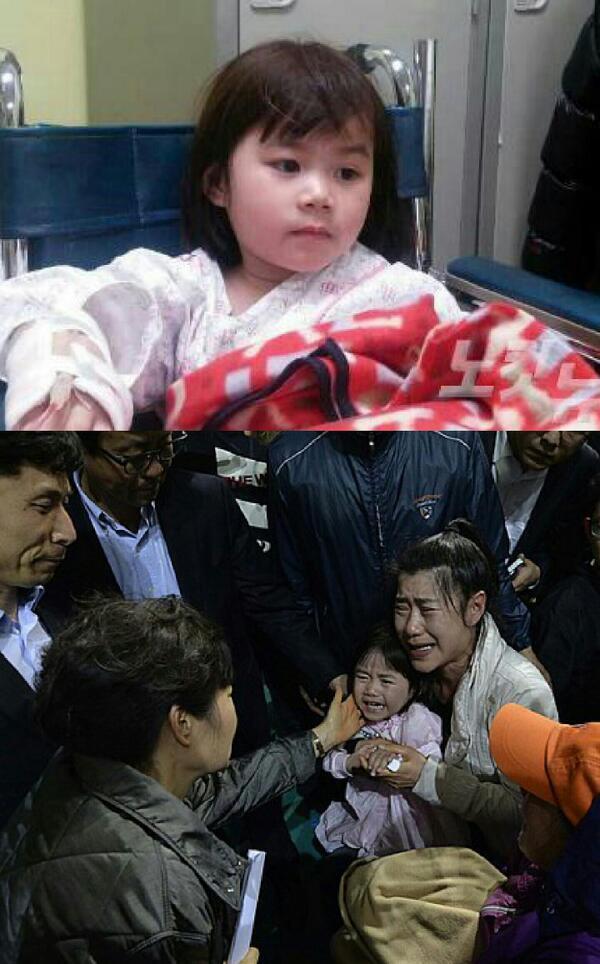 For those of you who do not know young Kwon's story: This young girl and her family were moving to Jeju via boat because airfare was too expensive. Although she was rescued, her parents are missing. She was hospitalized then brought back for a meet/greet with President. Her brother is still missing and is currently the only survivor of her family. 
(10:45AM) Update: Rescuers have started to inject oxygen into the ship again.

The ferry is completely/nearly completely submerged.

(11:25AM) UPDATE: THE SHIP HAS BEEN ENTERED.
(ETA: Misinformation between government and coastguard; NOT been entered.)
YTN live shot : Divers are now preparing to go under the water for Sewol rescue: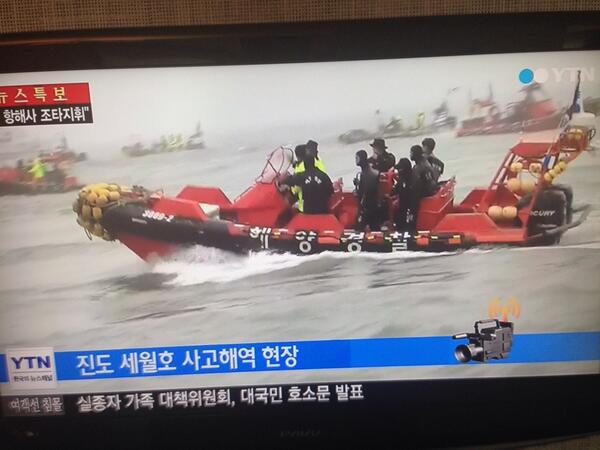 (12:37PM) Update: The ferry is now fully submerged.
(Unsure how deep the ferry has sunk.)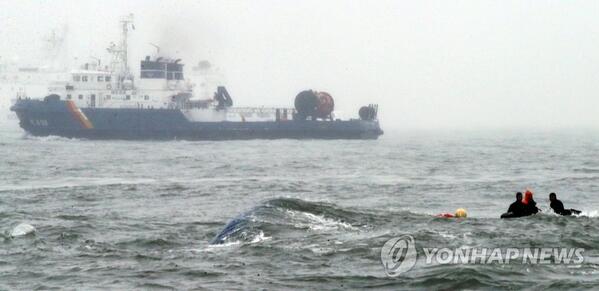 Current toll: 475 on board, 179 rescued, 27 dead, 269 missing.
(12:50PM) Update: Death toll is now 28. 268 missing.
POSSIBLE COLLAPSE OF AIR POCKETS.
(1:10PM) Update: Many are saying unethical reporting is happening where reporters are targeting children or going too far pushing the issue.
-Please stop, it is the time to inform, not inflict more harm upon others.

(2:49PM) Update: Prosecutors could get arrest warrant for captain as early as today. New info says he gave wheel to 3rd mate during time of incident.
Names of missing Sewol passengers will not be revealed to respect family members.
8-year-old Kim Kiwoong and Cheong Hyunsun, who are victims of Sewol incident, were a couple to soon marry. They promised to marry this fall. They were the crew members of Sewol.
-Absolutely heartbreaking. Please Rest In Peace, both of you.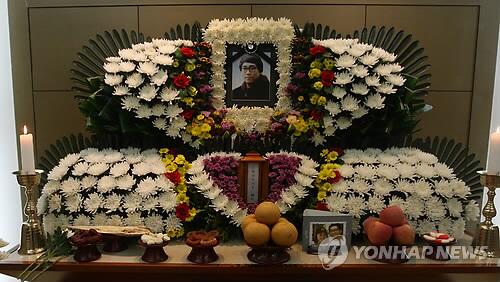 (Kim Kiwoong funeral parlor.)
Parents/families are highly fed up with the situation and journalists. They just want peace of mind and results.
(3:51PM) Update: Combined Investigation unit to claim arrest warrant on Sewol ferry captain within a day.
More than 150 ships are now on the scene for rescue. Operation progress is not going better than expected. 268 still missing.
Yonhap - "As of 3:38pm KST, divers are trying to enter the cargo area which is located on the 2nd floor of Sewol."
54 hours into the Sewol incident: 28 dead, 179 rescued, 268 still missing. Water temp is 13ºC.

(4:05PM) Update: Coast Guard said they are working on the door and efforts are underway.
(4:40PM) Update: YTN: 10 out of 28 bodies are still unidentified.
-Hoping one is not my lovely angel…
S. Korea Coast Guard: "Still no bodies found within the ferry."
A post-it message at Danwon High-school saying "Please Come Back" (via @Medrowdia):
(5:20PM) [!!] [BREAKING] [!!] UPDATE:Tragic news. Vice Principal of Danwon High School found dead. He was found to have committed suicide. 
Sources say that the Vice principal of Danwon High School escaped earlier from Sewol ferry than students.
The body of Vice Principal of Danwon High School was found near Jindo Gymnasium. He was 52 years old.
Vice Principal of Danwon HS ranked top on Naver's trending search: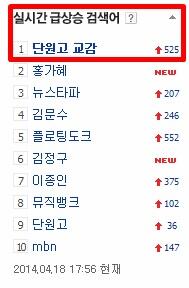 Danwon HS homepage no longer accessible as of this current time.
Officials at Jindo gymnasium just asked parents to come and take a DNA test. It seems they are, indeed, preparing for the worst.
Parents asked in shouting voices why that was needed. The official soon after left the stage.
The official once again came on stage saying that, only those desiring to, can take the test.

(6:20PM): YTN Anchor who is located 50m away from the rescue scene stated, "Divers are doing the rescue operation and having many difficulties".

A DSME Crane is positioned at the Sewol rescue scene. The rescue operation is on-going: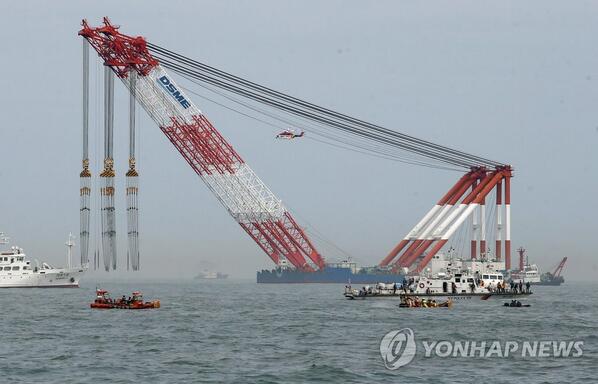 YTN shot - Inside look at Sewol ferry. This photo was taken when the happened on Wednesday: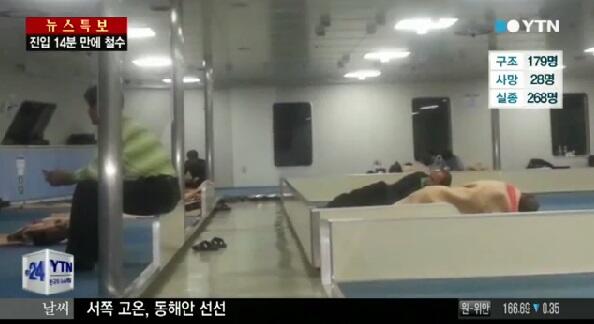 (7:04PM) Update: Someone at Jindo gymnasium has collapsed, currently receiving medical treatment. Everyone here at Jindo looks exhausted, weary from waiting.

(7:15PM) Update: We have hit the 58 hour mark, the latest toll: 29 dead (including Danwon's HS VP), 268 missing, 179 rescued.

South Korea's government decided not to reveal the full names of people who passed away from Sewol.
Coast Guard officials gave a briefing at the gymnasium with no new developments. Bowing and saying he is sincerely sorry..
A parent went up, asking for the mic and said he has lost all trust in the government and all domestic medias.
Spats between parents are showing they all have reached a breaking point. With really nowhere else to turn.
(7:35PM) Update: The Coast Guard informed the Gymnasium that another body was found. The identity is unknown, so officials read out physical traits for someone to identify.
-Things are looking so very grave, everyone. Though I am beyond fearful of future news, I will continue to update until the end.
(8:10PM) Update: Officials have announced DNA testing will will be conducted tomorrow 10AM for those who want it
[IMPORTANT] Underwater rescue efforts— divers have been attempting to get access to the third floor, where passenger rooms are located, since 7PM. An hour with no luck so far.
(9:35PM) [IMPORTANT] Update: Suicide note found in Danwon Vice Principle's wallet. Says "I'm sorry that I survived myself" and that he wishes to be their teacher in the afterlife…
The found bodies condition are too clean. It is likely they survived and then died from the sunken Sewol ferry. http://news.hankooki.com/lpage/society/201404/h2014041809232221980.htm
The bodies found could have been rescued, but they were too late (hence condition of bodies).

(10:35PM) [IMPORTANT] Update: Fixed toll of Sewol Ferry - 476 Total, 174 rescued, 28 dead, 274 missing (Coast Guard official)
The Coast Guard stated "Some people on the list of board used other transportation. So the number has changed".
The Coast Guard also went back to say rescue operations did begin around 1PM, the original time reported.
Oxygen is no longer being pumped into Sewol. Plans are to pick up oxygen pumping again tomorrow morning.
Prosecutors file arrest warrant for captain, third mate, and one other crew member on charges of manslaughter.
Video: South Korean journalist 조재환 reacts to reports that teacher who planned ferry trip has been found hanged: https://www.youtube.com/watch?v=30veoqRn2TY
(11PM) Update: 62 hours has passed since the Sewol disaster. YTN reports divers are finally at the entrance of 3rd floor. Rescue operation is in progress.
(4AM) Update: Yonhap - Captain of Sewol ferry claims "I did the broadcast saying 'Evacuate the ship immediately'"
-do not even start. You are gaining sympathy from no one.
This Yonhap photo shows a diver is suffering because of high tide at incident scene: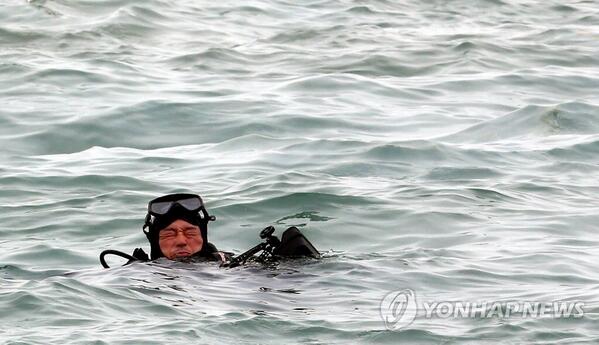 [IMPORTANT] Crews & Captain of Sewol have been taken into custody.
The South Korea ferry disaster: Here's what we know so far: http://cnn.it/1hTQyZi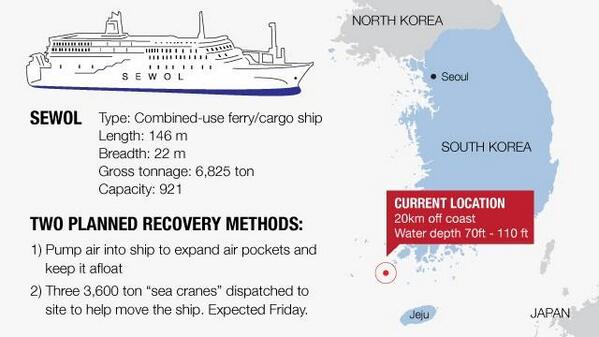 At 65 hours past the incident: 30(+Danwon HS VP) dead, 174 rescued, 273 missing. (Yonhap web)

Captain of Sewol saying : "When ferry begin sinking, there were no ships to assist or rescue"
-That is a poor excuse and you know it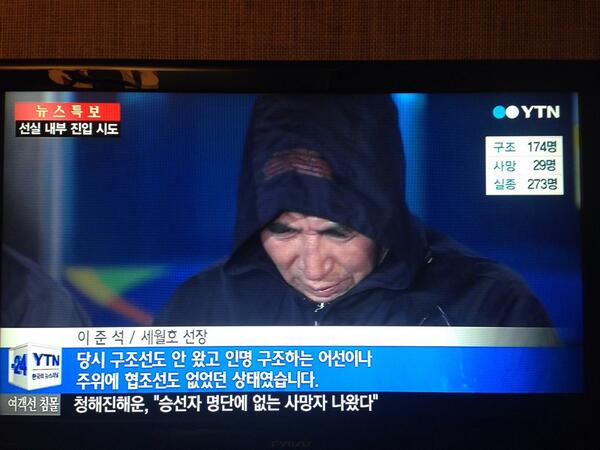 3am scene of Paengmok Harbor in Jindo, S.Korea. The lights still on as we wait for survivors (KBS):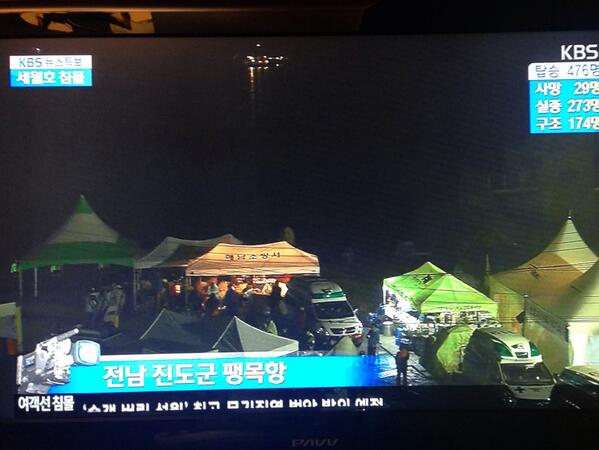 KBS Camera Staff took inside water look of Sewol rescue scene. Poor Visibility for divers. https://vine.co/v/M16iQtBhpeg 
Sources say that 26-year-old, 3rd officer (Woman), operated the Sewol ferry and that decision was made by captain Lee Jun-seok.
Main Rescue Operation resumed this hour, but no news of Survivors yet.
~~~~~~~~~~~~~~~~~~~~~~~
Write #PrayForSouthKorea and share a message in your own words.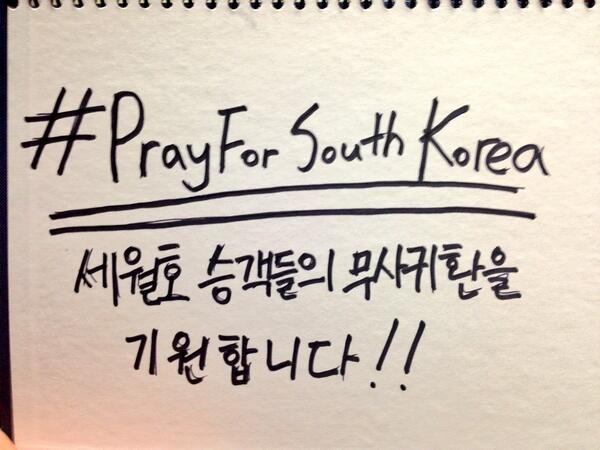 (#PrayForSouthKorea //// Wish all passengers of Sewol come back soon. Credit 조재환)
[!!] LOCAL [!!] : You can mail all donations to the following address:
전라남도 진도군 진도읍 철마길 25,진도군청 주민복지과



(Credit to 조재환 for the pictures that do belong to him.)